The Messy Guide to the Worst & Best Christmas Songs and Performers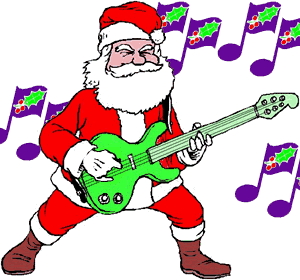 Nothing puts us in the Christmas spirit like music. So I felt like you needed to know what the worst and best songs are and the versions you need to listen to. (IMUO) I feel so strongly about these songs, that it is hard to imagine that anyone doesn't feel the same way as me. After much prayer and reflection about my judgmental attitude, I can admit that other people have limited experience so that they could have legitimate reasons for being wrong in their opinions of the best and worst Christmas songs! LOL
The 5 Worst Christmas Songs:
5.  Silver Bells as sung by any of my sons or my husband! It goes "Silver Bells, my butt smells…." And continues to get worse every year as they add gross lyrics
4.  Do You Hear What I Hear? Again, as sung by my family. When raising 3 boys, it is never pleasant to hear them sing about what they see, hear and SMELL!
3.  Tennessee Christmas because I want to go home and I can't so wahhhh!
2.  White Christmas this song is the reason that I don't mail Christmas cards: I'm dreaming of a white Christmas with every Christmas card I write? WTF? Somebody doesn't live in New England and have to shovel all that crap.
 1.  O Come, O Come Immanuel This song sounds like a funeral dirge. It bothers me so much that it cracks me up to the point of embarrassing myself if I'm in a church service and they sing this song. I will literally LOL when they get to the point of singing "REJOICE"! and I'm thinking… "uhhhm do you know what that word means? Cause you sound like someone just killed your cat."
The 11 Best Christmas songs and the Correct Version to listen to.
11.  Walking in a Winter Wonderland and Don't Worry by Pentatonix Because, if you can make walking around in snow sound that fun, more power to you. Everything they sing is great, but this mix is the most fun. They combined the most overplayed song from my college days with the stupidest song about enjoying being snowed in and made it fun!
10.  The Baby Boy by Harry Belafonte- It speaks to my Calypso soul. I grew up with with a profound sense of awe for the deep faith reflected in the traditional spirituals of African slaves. They had dignity in their suffering because they depended on God in a way that few of us will ever understand. I just can't help but reflect on my deep respect when I hear this song.
9.  I Heard the Bells on Christmas Day. ­­­­Like most Christmas songs, it sounds best when sung by Burl Ives! Cause my dad had his album and Burl Ives sang for the Christmas specials I grew up with!
I love this song because the second verse says,
And in despair I bowed my head There is no peace on earth I said For hate is strong and mocks the song Of peace on earth, good will to men
Which sounds kinda like how I feel about the world. Peace on Earth? Have you looked at FB?! Thankfully, the next verse reminds us that God is not dead, he's at work and Peace will win out one day! (Can I get a haller-luuu-yer!) LOL
8.  O Holy Night! In my unhumble opinion, no one beats Celtic Woman on this one, (not even Mariah Carey) https://www.youtube.com/watch?v=cZ-8jYpa1-o
When this song is sung really well, it just gives me chills and makes me fill like I'm experiencing a tiny bit of the awe we should feel at realizing that God came to earth.
7.  Silver Bells. Of course, you should listen to the Bing Crosby version unless you are some type of tradition hating scrooge! I don't have any deeply theological reasons for liking this song. I just grew up singing this song with my dad. I laugh now that I'm grown and cultured about how, as a kid, I would venture into the booming metropolis of Burlington, N.C. and be fascinated by the "big city" like they sing about in Silver Bells.
6. Holly Jolly Christmas and Frosty the Snowman. I think it should be against Christmas laws to record these songs being sung by anyone except Burl Ives and maybe children's choirs. When I was growing up in the 70's we didn't have 500 television stations. We had 3 or 4 if we were lucky ( if you count PBS!) When a children's show came on, we all dropped everything and gathered together to watch it. Frosty the Snowman and Rudolph the Red-Nosed Reindeer were two of those specials that we watched every year and WE ALL LOVED IT. Burl Ives hosted those shows and sang throughout. It was great and seemed magical!
5.  Christmas is All in the Heart by Stephen Curtis Chapman. This song is the "Life is Messy, God is good" anthem. Stephen basically wrote this song about me and Brian and our first few Christmases together. (Didn't pay us anything for sharing our story, but I'm not bitter about it...)He talks about starting out poor and struggling and then having kids… and no matter how messy things are, Christmas is all in the heart… It's my annual reminder that even though my Christmas isn't everything I think it should be, it's pretty awesome so I need to quit being a whiner and appreciate how blessed I am….but he says it more poetically!
4. Little Drummer Boy There are millions of versions of this song, but it is a fact that no version is better than the African Children's Choir version. It actually features cool drums that the baby Jesus would have totally gotten down to.
I'm also deeply nostalgic about this song because when my kids were little, they loved this song. Nathan used to sing it to my belly when I was pregnant and Stephen would kick like crazy. (At the time it was super sweet. Now Stephen says he was kicking because Nathan's singing sucks! LOL)
3.  Away in a Manger Nothing beats the Christmas episode of The Andy Griffith Show, where Ellie sings this song...
But you should really sing this song yourself and you should sing the final verse this way:
Bless all my dear children (and picture all of the children you have taken into your heart throughout your life…including adults that need to know God loves them!) In your tender care(pray for God to work in their lives) And take us to Heaven To live with you there (pray that they would know God and how much he loves them!)
This is a great song to sing to babies as you hold them and pray over them and you don't have to just sing it at Christmas.
2.  Breath of Heaven by the African Children's choir. I love this song because it talks about the messiness of Mary's story. We like to picture Bible stories as being super-holy and other-worldly, like epic poetry. Mary was a real person and her situation wasn't glamorous. It was hard and I'm sure she struggled. This song beautifully presents what she was probably thinking with great lines like "I am frightened by the load I bear" and "Do you wonder as you watch my face, "If a wiser one should have had my place".
You should listen to the African Children's choir version because, well it's African-y which is awesome! And the lead vocals are sung by a teenage girl which just sounds perfect when you think about the words.
1.  Sweet Little Jesus Boy by Afatia: Sweet Little Jesus Boy was written in 1932 by Robert MacGimsey after he came home from an inspirational Christmas service. He was thinking about the wonder of the Christmas story as he walked home past several bars. He thought about how sad it was that so many people didn't understand why Jesus came to earth. He wrote the song in the tradition of the African Spirituals that he had grown up with as a tribute to the incredible faith of the people who had taught him about Jesus.
My motto is "Life is Messy and God is good." No Christmas song speaks to my heart more than this song. It is a reminder of the tremendous faith that grew during the extreme injustice of slavery, a faith that still inspires me to this day. It also speaks of the sadness of those who may have better circumstances but miss the gift that God offers us.
So, there you have it, the Messy Guide to Christmas Songs.  All of the songs mentioned are available on Spotify.
Hope you had a laugh and enjoy some new fun songs this Christmas!
Blessings,
Cindy
VENT: As a little side note, the language lover in me cringes when people "correct" the grammar in Sweet Little Jesus Boy! The song was meant to be sung in the dialect of the people that the writer was respectfully paying homage to. They weren't applying to Harvard, all of us use colloquialisms so quit looking down on people! Y'all know who you are!